Mummy: the Awakening
From out the light of many a mightier day,
From Pharaonic splendour, Memphian gloom,
And from the night aeonian of the tomb
They brought him forth, to meet the modern ray,—
Upon his brow the unbroken seal of clay,
While gods have gone to a forgotten doom,
And desolation and the dust assume
Temple and cot immingling in decay.


-- from "The Mummy" by Clark Ashton Smith
OVERVIEW:
Summary of Mummy's Societal Structure if any
---
RESTRICTIONS:
Mummy is closed as of May 2005
The Mummy ST does not have any restrictions on character creation at this time.
*NOTE: MORATORIUM EFFECTIVE 7/11/04 --

We will no longer be accepting new Mummy PC's in this chronicle, unless the ST's lift this restriction prior to the completion of "Time of Judgment." We may consider NPC's on a case by case basis but it is highly unlikely.

As of August 2004, we know of no plans for White Wolf to provide for Mummy PC's in the new WOD 2.0, and so we currently anticipate phasing this genre out in the course of the TOJ Chronicle. If this changes, you will be notified here as we learn more.

Those players who already had Mummy PC's approved by July 2004 may continue to play them, move them to someone else's game, or withdraw them entirely.
---
MAKING A M:tR CHARACTER:
[UNDER CONSTRUCTION]
The following is merely a "cheat sheet" or guide. You are highly encouraged to at least buy or get access to the core book (WW ).
Using the Template that you can download HERE:
---
Some temporary sites for help on Nature & Demeanor

(These are incomplete but decent enough to help):

http://www.geocities.com/nsc_obt/overviewN_D.html

http://d.dominodeveloper.net/members/thespiralarms/clubd.nsf/nd?OpenPage
---
Concept: There is an actual list of concepts HERE (link under construction). We do realize that some of them may not fit exactly but do the best you can. Concepts are usually a 1-2 word root-level label for who your character is at the core (not in a supernatural sense). Examples might be: Drifter, Intellectual, Party Animal, Politician, Misguided Prophet, Socialite. These are stereotypes and needn't be literal; details would be covered in your background.
Temp Link containing examples of Concepts:

http://www.virtualsolarsystem.com/venus/ladynightspirit/Concept.htm
---
NB: Specializations (Attributes and/or Abilities) -- If you have a 4 or higher, you may take a specialization in something, but the bonus rerolling ONLY is done when you are using that specific specialization.
Example, if you have an Appearance of 4 and your specialization is "Sexy", you only get the bonus when you are trying to deliberately be "sexy" in your RP.
---
---
Temporary Link for Backgrounds (Current List only, no "System"):

http://www.pen-paper.net/wod.php?op=backgrounds

Another temporary Link for BACKGROUNDS (Multi-genre, no System):

http://www.darknexus.com/WhiteWolf/background.html
---
WHO APPROVES YOUR SHEET/WHO IS MUMMY ST?:
slander
---
SOURCEBOOKS IN USE:

White Wolf #

Title

ISBN #

Content Notes

WW5399

World of Darkness: Time of Judgment (March 2004)

ISBN: 1-58846-475-X

CtD/DtF/HtR/KOTE/MtR
WW2832
Veil of Night (Year of the Scarab™)
ISBN: 1-58846-206-4
Guide to the medieval Islamic world & the Cainites who rule its nights. VtM crossover
WW3114
Rage Across Egypt (Oct. 2001) (Year of the Scarab™)
ISBN: 1-58846-301-X
W:tA & M:tR Crossover module. The Garou's shadow war vs. the vampires of Egypt, Jackal Fever, the Fera, the mystical 12 Houses of the Underworld
WW3280
Mummy: The Resurection (2001)
ISBN: 1-58846-203-X
Core Book
WW3281
Mummy Players Guide (2002)
ISBN: 1-58846-235-8
Six new character types; expanded Traits & powers.
WW4030
Lost Paths: Ahl-I-Batin and Taftani (June 2001) (Year of the Scarab™)
ISBN: 1-56504-429-0
M:tA & M:tR Crossover. Middle Eastern Mages.
**NOTE: A PC may not assume to know the "aura" or reading of a Mummy until they have earned this knowledge IC, via RP, buying Mummy Lore, or info from an approved background. Otherwise, they may see the reading as stated, but it has no meaning to them.
---
MUMMY THEMED MEDIA:
BOOKS:
MOVIES: The Mummy ('99), The Mummy Returns, The Scorpion King, The Awakening, Blood From The Mummy's Tomb, Curse of the Mummy's Tomb, The Mummy's Shroud, The Mummy ('59), The Mummy ('32), O Segredo da Múmia (Portuguese, 1982), Tale of the Mummy, Harry Knuckles and the Treasure of the Aztec Mummy, Bram Stoker's Legend of the Mummy, Bram Stoker's Legend of the Mummy 2 aka Ancient Evil: Scream of the Mummy, Ng goh haak gwai dik siu nin aka The Mummy, Aged 19 (Cantonese)
MUSIC: "Im-Ho-Tep (Pharoah's Curse)" by Iced Earth
POETRY: "The Mummy" by Clark Ashton Smith, "The Egyptian Mummy" by Elizabeth Searle Lamb
TELEVISION: The Mummy: The Animated Series
THEATER:
VIDEO GAMES:
---
Quintessential Mummy Archetypes in Media & Myth:
UNDER CONSTRUCTION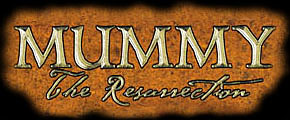 ---
Dr. Bey: We are part of an ancient secret society. For three thousand years we have guarded the City of the Dead. We are sworn at manhood to do any and everything in our power to stop the High Priest Imhotep from ever being reborn into this world.
Ardeth Bay: Now, thanks to you, we have failed.
Evelyn: And you think that justifies the killing of innocent people?
Dr. Bey: To stop this creature? Let me think...
Dr. Bey, Fehr, Oded: YES.

-- "The Mummy" (1999)
LINKS TO MUMMY RELATED WEB SITES:
Mummy NPC's Index: http://www.pen-paper.net/wod.php?op=npc&npctypeid=20
Mummy: the Resurrection Site Listing: http://www.zeldabelle.net/res/index2.html
White Wolf's Mummy Page: http://www.white-wolf.com/Games/Pages/MummyHome.html
---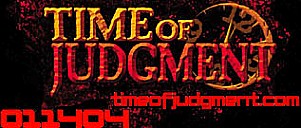 ---
All Gaming Sourcebooks & Materials for this campaign are
© 1990-2004 White Wolf Publishing, Inc. All rights reserved.
---