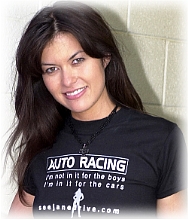 NAME: Francesca Maria Torquemada
(nickname: "Torque")
AGE: 19
RACE SERIES: NASCAR Weekly Racing Series (Stock Cars)
CURRENT SEASON: Torque is currently at tracks in Winchester, Richmond and Manassas, Virginia, as well as Charlotte, North Carolina, racing in the Winston Racing Series, hoping to make a bid for 2004 Rookie of the Year. She is having a very impressive rookie year, with 17 top 5 finishes and 3 top 10 finishes out of 20 starts. So far she is tied for 3rd in overall in points for the season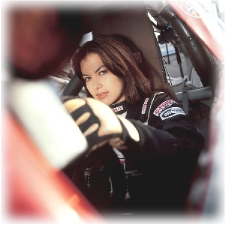 RACING GOALS: She hopes perhaps to eventually move into a Winston West car, then to the Busch Series, and eventually into Winston Cup. In the long term, to be the first woman to win the Daytona 500.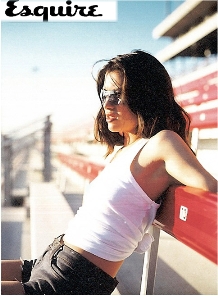 PERSONAL:
Still lives in Prince George's County, alone.

Single, "available but not really looking. Maybe for the right person, we'll see."

Just received her GED this past Fall.

Favorite Color: Red

Favorite Movie: Fifth Element, Days of Thunder

Favorite Food: Italian, Greek

Hobbies: soccer, swimming, dancing (Lambada)

Favorite Music: Normally 99.5 FM, Hip Hop, Tejano, also Jazz (She is a big fan of Sable Valentine's)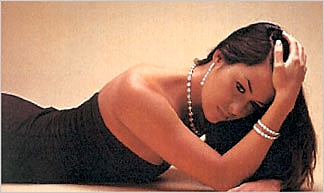 SPECIAL THANKS: Her family, Jason, Sheila, Hank, Boggie, Duncan, Dominic, Sable and Barb. Also thanks to Craven Tire & Auto, Goya Foods, and Fuji Film for their support.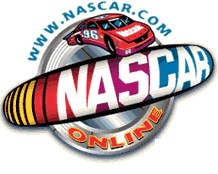 Unlike many of the typical drivers populating the NASCAR feeder circuit, Francesca Torquemada, or "Torque," did not grow up around any racers, or spend her school years racing in soap box derbies, go-karts or dirt tracks. Torque was a very late bloomer, who only just began stock car racing at a time when many of her competitors were already seasoned racers.

19 year-old Francesca does not talk about her childhood much, but what is known is that she is of Mexican heritage, and grew up in a low-income area of Prince George's County, Maryland. Her mother, Carmen, died when she was in Middle School, of ovarian cancer. Her father and other family are still in the area.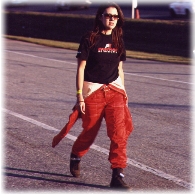 She attended public school, barely squeaking by enough to pass each grade. At the age of 16, with parental consent, she dropped out of High School to work part-time at her Uncle's garage in Hyattsville, which she had already been doing since age 14 from time to time.
Torque exhibited a high mechanical aptitude from an early age, something her family did not notice at first due to her poor performance in school. She took to racing illegally in street races, popularized by such movies as "The Fast & The Furious," and only admits to this now because of a powerful change in her life last year through a new-found mentor of hers.
Torque befriended a local counselor named Jason Turnbull after being an inadvertent witness to his shooting by the Villynz Crew in Southeast DC. Coach Turnbull is credited with convincing Torque to go straight and turn her skills into a legitimate career, and after one brush with the law too many, she did.
She began working on her personal car with a friend of Mr. Turnbull's, Hank Taylor, who has helped her convert the car to a stock racer and been a part-time mentor since Coach Turnbull was killed in in a Federal Raid of a Church in Tennessee a few months ago.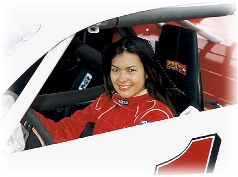 Restoring her car, "The Judge," she began to work the Winchester, Manassas and Richmond feeder tracks, making quite a name for herself as she came out of obscurity to shatter over 7 track records this Fall season already. Torque recently abandoned "The Judge" as a track car, and has another, newer rig for the Winston Circuit. Despite now having a pit crew of 4 at her disposal, Torque has a reputation as quite the "Fix-It" girl. Her pit-mates claim there's nothing on a car she can't fix... so far.

She certainly has the fierce heart and ambition of her famous ancestor, Friar Tomás de Torquemada, Spain's most famous Inquisitor (c. 1400), but the only people she is torturing are those who are left in her dust as she races into her time to shine in the NASCAR spotlight.