(Please make some OOC allowances for the timelines on the below stories being a little bit off. Quite a bit of it is backdated material that [a] we were simply too shorthanded, and [b] needed time for the ST's to process in the best way for the overall game, to get this posted any sooner. The best course of action is for everyone simply to act and react, ignoring dates when it is possible, and move things along so we can all be in the same time frame once more. Thanks)

STYLE
ARTS & ENTERTAINMENT

Who's News In Media, by Kitty Whittier
Of course you missed me, dear Readers, but every cat has nine lives and I've plenty left, have no fear. Nor is Washington out of scandals that want that certain touch only I can bring to the forefront... so batten down the hatches and let's take to the high seas of inside-scoop land, shall we?

HAVE YOU SEEN THIS GIRL? -- First stop is Tinseltown, where some unknown Almost-Was relative of the De Laurentiis Clan is bemoaning the disappearance of his only child, beloved daughter Elizah. Oh, the tragedy! Quelle dommage, another Hollybrat got fed up with the over-pampered life and gave her complacent 'rents the finger. Why would Washington even care, you ask? (As did I). Because, pets, it seems the little urchin left behind some clues that her family takes to mean she ran away from home to the least Hollyweird town she knew of; our own Home, Sweet, Home. Rumor has it the wayward waif is bunking down within these hallowed walls, somewhere... Let's hope her debut into the family business is not a starring role on the back panel of a milk carton. Don't get me wrong - I am not anti-family or anti-child. But clearly her placeholder paternals paid as much attention to their precious trophy progeny on the homefront as they did to their waning careers. Stay tuned.

TWO FOR THE PRICE OF ONE -- Seems everyone wants into the action lately. Just when the news of Elizah DoTooMuch was first leaked, we have it on good authority that Washington is having its very own episode of Princess Diaries Gone Wrong. The good Jonathan North and his trophy spouse, Melissa, who ever so kindly took an orphaned girl into their posh, Chevy Chase digs over a decade ago, are having some teen angst of their own, and then some. It seems their daughter, Jessica, is having more than the usual share of growing pains.
The elusive Miss North was last seen being driven home from a social event by a close friend of the family, retired Senator Thomas Billingsley of Maryland. That night, the Senator was found violently butchered to death in his Washington home, and blood and clothing shreds identified by DNA as Jessica's were found at the scene, though she has not been seen since. Her parents fear the worst, and we all hope this does not drag out into another Chandry Levy body hunt. A neighbor walking her dog claimed to have seen a nude, bloodcovered woman leaving the house around the time of the murder(s), but she has not been identified.
The Norths (no relation to that ruffian Darren that her Gabness used to tote around) are awaiting some kind of random demand. They are certain Jessica still lives, as some days after the Senator's murder, their own home was entered, using the correct security codes, and only Jessica's room was touched. Numerous personal effects were removed, and some money from Mr. North's safe, but nothing else was touched. Only Jessica's prints were found but since it was her room, this is inconclusive.
Though certainly my opinion on excessively wealthy parents having trouble at home is well known, we at the Post of course wish both young ladies a speedy journey home... or to the best place for them to safely be.
AS THE STOMACH TURNS, aka THE HUNG & THE BREASTLESS
-- I am sure that most

of my readers do not really listen to that much shock rock, so the antics of those who peddle said drivel are normally the purview of your rebellious children. However, what is newsworthy is so rarely of the media's choosing, and thus is my yoke to fashionably bear. A lot of great mysteries of late are easily explained, it seems.
While one of the Music scene's darlings, Arcane Knight's lead chanteuse, Ms. Anya "I've Milked My 15 Minutes For More Attention Than

Should Be Humanly Possible" Star was busily trying on her wedding gown weeks ago (in WHITE?! Cheri. Please. You've practically got landing lights riveted down your hips, as good a laugh as when Madonna already did that trick. Twice), it seems her on-again, off-again fiance Monsieur Bloody was trying on other things... or should we say other people.
Confidential sources have provided us a recent but undated candid of Billy B and someone who is most definitely not his sister, out on the town, sans our intrepid heroine. Perhaps payback for the incident outside Web of Night last year involving accusations of La Star starting the trend first. No doubt this explains why both of their tours were significantly pared down, and several press conferences cancelled or rescheduled of late. Spokespersons for their mutual record labels would only say that with their personal life in such upheaval before the now-on again wedding, the dynamic duo has sequestered themselves away from the media in an undisclosed location. Doesn't look like it to me but... never a dull moment, dear readers.

COPYCAT REDUX
-- Seems that Gabby Wildwood and Loki want in on the torrid couples roster as well. Which week is it for you two, on-again or off-again? These starcrossed stars have been seen frequenting Web of Night once more, as well as a couple of East Coast Studios, purportedly working on an album together. Yet the Trickster God is often out of town, and Gabby has been frequently seen in the company of yet another in a series of dashing young men she insists are just bodyguards. We don't know precisely how closely they guard her body, but honey, thanks for the newest euphemism for bedmate. Filed and noted. No doubt the Private Security Industry has been culling from Ford's Modelling Agency of late. At least she finally ditched the caveman she used to lug around with her, grey-area bad boy Darren North. DCPD and NYPD are no doubt equally grateful.

Strange rumors afloat, however, that the Gabster is embarking on a stage career, as overheard in some snips of convo at The Phantasm with none other than torch singer and dancer Aki Oshii who, now that you mention it, bears a very odd resemblance to a not worth mentioning adult entertainer who supposedly retired. In fact, said Maitresse was the very same who was accosted months ago on duty at some seedy bondage bar in Northeast, by none other than Anya Star and Aki's unfortunately mentally ill brother, war veteran Mayka Oshii. Art imitates life imitates art, n'est-ce pas?
-- Until next time, friends... All the best from Kitty!
THE MUSIC SEEN (from Staff Compilations):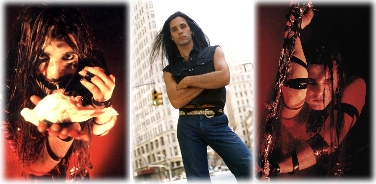 According to sources at his independent label based in Berlin, shock rocker Marx Ingels, exploring his far edgier solo career while not pounding bass for Arcane Knights, is said to be finally releasing his several-times delayed, bathed in controversy new video, title as yet unannounced but the working name in English was "Darker Than A Dark Angel". All we know is that, based on reputation and leaked publicity alone, the music industry has already restricted airing it until after midnight on cable music channels, some outright banning it altogether. Shades of Skinny Puppy's "Worlock" and the uncut "Happiness in Slavery" by Nine Inch Nails, plus hints of directors Romero, Argento & Fulci come to mind as Ingels' camp claims to be pushing the envelope on hard core violence in indie music video. It has been rumored that the effects are film-industry calibre, the level of realistic gore and brutality such that has not been seen in years in the genre. Police were said to have been called to the shoot more than once, reportedly because several scenes were so lifelike that some crew members panicked and thought their co-workers had been seriously harmed. Look for the cameo of an unnamed groupie in the last segment of the video, said to be a surprise ending. More to come...
ARTS AROUND TOWN THIS WEEK:

Professor Aephestus's Magic Show
The Phantasm Aug. 25-27 8:00 pm

Aki Oshii - Dinner Cabaret featuring music and dance of On & Off-Broadway Favorites.
The Kennedy Center Terrace August 2003, M-W-F Dinner at 8:00, Show at 9:00 pm
Louis Delacourt, with Chiana Rayne and special guest Jordynne Forrester.
Salon at Capital Hill Aug. 25-29th, 9:00 pm - 12:00 am