SOUTHWEST -- NEWSPAPER COLUMNIST KATHERINE WHITTIER AWAKENS; STILL IN ICU: Post reporter Katherine Whittier, who suffered a cocaine overdose several weeks ago, is finally awake again, after being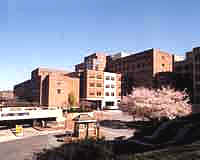 in Georgetown University's ICU in a coma resultant from multiple seizures that the drug caused, which aggravated an asthmatic condition from which Whittier chronically suffered.
One evening several weeks ago, Whittier had phoned DCPD from her cell phone, after leaving her office at The Post, claiming that a young white male in a black Honda was stalking her into an alleyway near the Post Building. Police have no suspects in the case that fit Whittier's claim. Video tape of her arrest was inconclusive.
Whittier, her Doctors and her Attorney are naturally tight lipped about the particulars of the case; however, a few pieces of information have been released, much of it conflicting.
Whittier issued a very brief statement after awakening a couple days ago, that she confessed to having an over a year-long battle with cocaine addiction. Whittier's attorney claims the statement was made under spurious conditions, seeing as his client has only just now awakened from a months-long coma, with the extent of potential brain damage or other effects still undetermined. She has not been well enough to make any further comments or take visitors other than immediate family.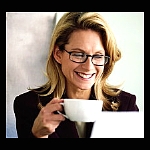 On the other hand, Whittier's regular physician adamantly states that he has numerous personal records of her checkups and treatments, and also ordered a hair strand test done on Whittier upon hearing this assertion. Whittier's Doctor, who asked to remain unidentified to the media, insists that the tests clearly show this to be impossible; that there is no evidence that there has been traces of any cocaine, or any other illegal drug for that matter, in her system ever, prior to that night. The test was run twice to confirm at another lab, with the same results. Despite Whittier's confession, medical proof disputes her claim.
Whittier's Doctor additionally stated that she has absolutely no signs of track marks, and assured the press that Georgetown records confirm this upon her admittance, the lack of which is highly inconsistent with a year-long injection habit. He added that Whittier also did not suffer from delusions prior to the present time, weight loss or respiratory disturbances abnormal to her asthmatic condition, all of which often occur with frequent use of the drug in any form, injected or otherwise.
In rare instances, sudden death can occur on the first use of cocaine or unexpectedly thereafter. Cocaine-related deaths are often a result of cardiac arrest or seizures followed by respiratory arrest, a combination that spells certain death for a known asthmatic, further supporting Doctors' insistence that Whittier was previously clean and her confessional statement suspect.
Police have not yet formally charged Whittier with possession, even though allegedly there were packets of the drug and recently-used injection paraphernalia in her car the night she was picked up.
Sources all around are guarded, as they determine the true extent of the damage to Whittier's system, mentally and physically, before deciding how to legally proceed.
In the meantime, numerous well wishers from the glitterati of Washington, interestingly many of them targets in her volatile gossip columns, have come by to pay respects, Whittier's room replete with flowers, cards and balloons from many such as Lady Helen Fairfield, and AbFitch male model Jaymes Lovier.
Sources say there have been inevitable and obvious rumors that someone previously a target of Whittier's acerbic observations could have had set her up as payback for one of her columns; but the list of suspects, were that the case is legion, and police have no substantial leads to point to anyone in particular.
Whittier's regular social column, which appears elsewhere in this paper, has been placed on hiatus and herself placed on medical leave pending further updates on her condition.
---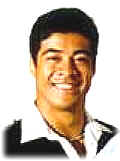 SOUTHWEST - GEORGETOWN FOOTBALL STAR JONES ON THE MEND: With football season over for the Hoyas, Georgetown Running Back Robbie Jones is nursing a hurt shoulder as well as a hurt GPA from all the publicity this past semester, and laying low until the end of May.
---
---
STYLE & SOCIAL NEWS
---
KITTY'S KORNER GOSSIP COLUMN IS ON HIATUS WHILE MS. WHITTIER RECOVERS.
---
ENTERTAINMENT NEWS
by Berkeley S. Learmonth, Staff Reporter
Saturday, April 25 — The Phantasm, popular 1940's style hot-spot for the trendy and elite, was riveted for the remainder of the evening, after an impromptu performance of unbelievable caliber.
A hitherto unknown young musician, Mr. Jorsca Loupyn, a shy, quiet man, walked into the club, then almost directly onstage, and the audience may never be the same. His guitar is scuffed and well-used in places, and his stage presence is subtly compelling, a far cry from the star power flash of Loki, or the dramatic, classic ethereal persona of club owner and violinist Sean Davies.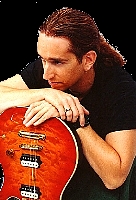 Jorsca unpretentiously, and without ceremony, gave us an amazing improvisational guitar performance, leaving the audience literally moved to tears. The Spanish-style melodies evoked deep sentiment; images of home, of love and innocence, and brought the normally boisterous crowd to an awed, admiring standstill.
Mr. Loupyn was interviewed afterwards, and describes his particular style of music as "Gitano," which is defined as 'Spanish gypsy' music, according to popular resources.
Jorsca, however, refers to himself as being of Romani descent. The term 'Gypsy,' which is a permutation of "Egyptian" (though this culture originated primarily in India), is considered by the Rom to be overwhelming offensive, and politically incorrect.
Jorsca learned to play guitar when he was eight years old, taught by his parents. One of his favorite songs is The Who's "Behind Blue Eyes", which he played a beautiful rendition of before posing for the photo.
The innocence and mastery of his musicianship leave Jorsca Loupyn striking a chord with his listeners, making a strong impression with such a subtle, gentle manner.
(OOC Note: this was a 10 success performance)
---
NORTHEAST - ADULT FANTASY CLUB OFF TO ABORTIVE START: The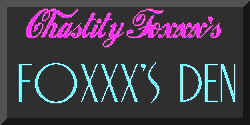 Foxxx's Den, a new adult entertainment venue in Northeast DC sponsored by local native and adult film star Chastity Foxxx, opened its doors to the eager public last week, but unfortunately suffered from a bit of premature timing as the evening's festivities were cut short by the intrusion of an unidentified gunman, followed by several guests leaving early due to a faulty A/C unit that had the club sweltering in minutes. Foxxx was unavailable for comment, but the club appears to be back up and running quite quickly.
---
SOUTHEAST - 1200 MURDERED BROTHERS ON HIATUS; LEAD SINGER OAKLEY IN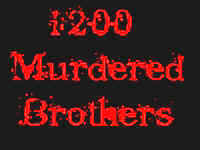 SECLUSION: The frontman for rap outfit "1200 Murdered Brothers," Kareem Oakley aka "Sultan Homicide," is said to have taken a sudden and unexpected leave of absence from performing and holed up with family in a remote location, much to his band mates' dismay. Oakley is said to be working on some more powerful material for a Maxi-CD release due out in the Fall.
---
SOUTHWEST - LOCAL STREET BEAT POET ON THE RISE: Recently discovered poet of the streets Scotty Goldman has been making the rounds of several

local coffeehouses, parks with verandas, and street corners of Georgetown and Old Town Alexandria, spreading his rough but insightful brand of poetic expression to any who will listen. Goldman is becoming spoken of as the next generation of such noted avant-garde and politically astute entertainers as Frank Zappa, Jello Biafra, Henry Rollins (also a local boy); and grandson in spirit to the Kerouac generation of beat poets. Goldman is self published and as of yet, unsigned to an agent or publisher.
---
Hank Taylor — Good With His Hands
-- Artisan Interview by Berkeley S. Learmonth
Hank Taylor is an upcoming sculpture artist in the D.C. area that has created quite the name for himself. His work deals with fantastic, bizarre themes, including angels, demons, warriors and other mythical creatures. Most recently, Mr. Taylor was spotted at Vendors' Night, a semi-regular gathering of local artisans and craftsmen sponsored by local music venue Web of Night.
Fellow Vendor Ms. Winter Raine, instructor and founder of A Touch of Peace Yoga, and employee with At Your Service Conciergerie, states, "(His) work is truly magnificent. The sculptures seemed only need a breath of life in order to move."
Indeed.
What sparked your interest in sculpture?
Dream and memory. If you can capture a fleeting moment, and lock it in stone, you take ephemera and give it permanence
Please describe your first piece.
It's a small, somewhat crude sculpture of primitive warrior, clad in loincloth and armed with a paddle-like bladed club, made of variegated sandstone. Inspired by dreams after too long working on an anthropology paper. The weapon is actually very like a macauital, which is to say... imagine a wooden canoe paddle, with a groove cut along each edge, and inlaid with chips of sharp, broken stone.
What would you consider the most unusual piece you've created?
Nataraja of the Craftsmen: a variant of the typical Lord of the Dance.
Any artists you admire?
Michelangelo was brilliant in stone, though I find I empathize more philosophically with Bernini.
What do you consider your favorite piece of art?
Leonardo DiVinci's design for the ornithopter, which was brilliant in its innovation, even if it wasn't truly functional
Please describe the attitude, or feel, of your work?
Infinite possibility. What I make are the things people say don't exist in the modern world... but if I make them, they do exist. Even only on a diminished level, it's more than most people conceive.
Will you take your art full-time?
Probably not. It's one of those things, that's, well, fun when you're doing it for fun. But you worry if you had to do it full-time it'd become tedious.
Finally-- what is your reaction to the overwhelming popularity of your work?
Well, I'm glad the public likes it. But... I didn't really make it for them. If they all hated it, I'd probably still do sculpture. It's just something I do for myself.
Hank Taylor can currently be reached at Taylor Made Inc., of Lanham, Maryland, during business hours.
---
---
CLASSIFIEDS
---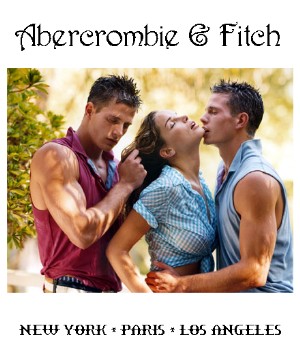 ---
AUTOMOTIVE - FOR SALE: Of interest to serious muscle car collectors. 1969 Ford Mustang Mach I, Red, fully restored to factory specs, with even smoother handling than off the factory floor.
Stock 351W, original short block (bored 0.060 over)
Stock Autolite 2BBL carburetor
Stock FMX 3 speed automatic transmission
Stock 9" rear differential, 3.0:1 ratio (no limited slip)
Quarter mile in 15.442 seconds
Serious inquiries only.

For information please contact Paul's Automotive Repair at (202) 555-5134 and ask for Paul.
Custom mods and 24 Hour Emergency Road Service also available; inquire by phone.
---
Ash Man Cult Murderers Still On the Run
GERLACH, NEVADA — Police have yet to announce arrests of the fugitive religious cult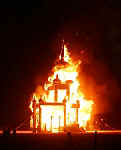 members who attempted to burn victims alive at last weekend's Ash Man festival. The famed annual counterculture event draws thousands of devotees and tourists to a desert location outside Gerlach, Nevada. The Bright Foundation, a religious organization based in Las Vegas, had been using the event to recruit followers. Several regular attendees of the festival left their homes and jobs to commit themselves to a "Family Compound" in the Nevada desert. Spokespersons for the Bright Foundation deny that their organization was involved in the violent incident, but federal officials have convened an investigation of the group.
---
LA Couple Says Daughter Abducted by Blood Cult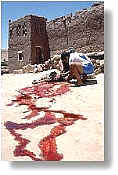 LOS ANGELES, CALIFORNIA — Mr. Jonathan Cross and his wife Alexandra appeared last night on local television channels pleading for the return of their daughter Jenna, said to have been abducted by one of the many blood cults now making the news. They describe her abductor as a bearded New Age guru calling himself "Smiling Jack."
---
Bloodied Man With No Pulse Escapes Detroit Hospital
DETROIT, MICHIGAN — A man reportedly staggered into an area

emergency room last night, covered in blood and claiming to have been attacked in the night. Doctors found no vital signs when they conducted tests. His heart rate was zero, and he did not appear to be breathing. When doctors attempted to place the man in a secured facility for further study, the man grew enraged and fought his way out of the hospital, vanishing into the night.
---
---
INTERNATIONAL NEWS
---
Artist Says She Made Pistol Out of Own Skin
AMSTERDAM (Reuters) - A Dutch artist has used a flap of her own skin to make a replica pistol to be shown at an Amsterdam art show next month, she said Friday.
"I made a pistol to express my concern about violence in society and to show the connection between what a pistol does and the human body," said Joanneke Meester said of the replica, which is about the size of a matchbox.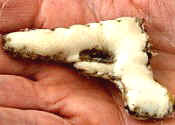 Meester said she made the tiny replica pistol with a piece of skin -- 20 centimeters (8 inches) long and four centimeters (1.6 inches) high -- surgically removed from her abdomen. The puckered skin was stretched and sewn over a plastic and fiber pistol mold.

Meester said she had the flap of skin removed under local anaesthetic to allow her to make the pistol. The surgery left her with 16 stitches. She froze the skin, then defrosted it to make a replica weapon preserved in formaldehyde.

Meester, whose piece will be on display in a glass case at Amsterdam's Kunstvlaai exhibition organized in a former gas works in the Dutch capital from May 8-16, has used skin as a theme in her other work too.

The 38-year-old artist has made "cuddly toys" with pig skins she obtained from a butchers and produced video installations in which actors are mummified by skin-tight costumes, rendering their faces anonymous.

"It's actually not an unambiguous work of art," she said. "I can understand that it can come across as shocking."

The art world is no stranger to controversy. A transvestite potter beat the creators of a pair of bronze sex dolls to land Britain's Turner art prize in 2003. A pickled sheep and a Virgin Mary figure made of elephant dung have also won the prize.

.
---
Radical Group Appears in Black Forest
FREIBURG, GERMANY — Groups of villagers from parts of the famed Black Forest have banded
together to serve in a vigilante group calling itself the "Army of the Wise God." Claiming to take leadership from a mysterious man named "General Geoffrey," this group has ejected all national authorities and held a series of lynchings of those they proclaim enemies. The bloodiest lynching was of the entire population of a neo-pagan commune that had lived peacefully in the Forest since right after the Second World War. The Army of the Wise God branded the commune's members as "unwitting slaves of Samael and Moloch" and executed them all, sending photographs and other grisly evidence to national media outlets.
---
Teens Steal Skull, Use as Puppet
LONDON (Reuters) - Two Scottish teenage boys escaped a jail sentence for breaking into the tomb of one of Scotland's most violent noblemen and taking a skull to use as a ventriloquist's dummy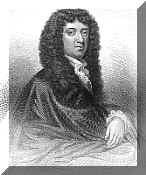 Sonny Devlin, 17, and a 15-year-old boy who cannot be named for legal reasons, were put on probation for three and two years respectively under the ancient crime of "violation of sepulchre" -- the first such trial for over a century, newspapers said on Saturday.
Last June, the boys broke into the mausoleum of Sir George "Bloody" MacKenzie, a senior official of Charles II who died in 1691. He earned his nickname for his zealous persecution of Presbyterians.
The court heard the crime was motivated by "immature and drunken bravado more than anything sinister." The boys were accused of stealing the unidentified skull, using it "like a glove puppet" and then throwing it away.
---
---
POLICE BEAT
---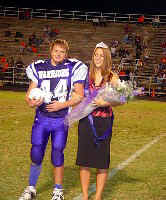 MD HS SENIOR MURDERED: Tacoma Park High School senior and football player Robert Duquesne was found dead a few days ago along a Southwest Waterfront park. He was last seen driving his late-model Corvette near the Potomac, where it was found still parked. His body was found on a nearby park bench, pants and wallet missing, his jugular slit with a sharp cutting object, blood splattered over the bench and grass. No witnesses or motive have been determined in the murder.
---
BALTIMORE, MD: Management at Web of Night North Gothic Music Club on the Inner Harbor reported to

police that a second staff member has gone missing from the club in recent months.
A few months ago, notorious DJ GeMiN][ was reported missing after a fire gutted the entertainer's townhome in North Baltimore. Gemini has not been seen since that day, but police were fairly certain there was no body in the remnants from the fire.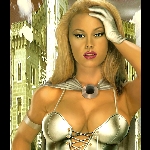 Now, co-worker DJ Ice Queen, aka Emma Frost, has not reported in to work for over two weeks, nor has been to her home in Towson. She and Gemini are both listed as missing persons with Baltimore City Police. While there is a work connection between the two parties, police have no known motive or suspects in their mutual disappearances.
---
NORTHEAST - ROCK SINGER LOKI HAS HEARING ON RAPE AND ASSAULT CHARGES: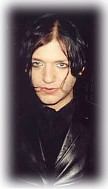 Entertainer Loki, accused of assaulting and raping co-worker Meghan Ambrose, was arraigned a couple weeks ago, at which he pled Not Guilty, and was let out on bail. Attorney of note was logged as Richard Jameson.
A Pre-Trial Conference is set for this Friday in which the Court will hear any plea bargains, identify the issues, the strengths and weaknesses of the evidence and case, and log and note potential witnesses for the trial, likely to include Ambrose herself, whose testimony is key in this case.
---
NORTHEAST - ADULT ENTERTAINER GABRIELLE WILDWOOD ARRESTED: Exotic dancer, stripper and actress Gabrielle

Wildwood was arrested last week for narcotics possession. Ms. Wildwood was denied bail and declared a flight risk at her pre-trial hearing.
After a lengthy conversation with Federal authorities, Wildwood relieved her attorney of his obligation to her and cooperated with authorities by turning states evidence and providing information on another case.
Wildwood was then released and all charges filed against her have been dropped. She has been court-ordered, however, to attend rehab to deal with her drug addictions, which was a mandatory condition of the charges being dropped.


---
---
EDITORIAL
---
This election year we will see many topics debated. But none will be debated as heatedly as the Patriot Act and the protection of American interests at home. And while I agree that we should protect our citizens from threats abroad, it is also my belief that we should protect ourselves from rogue elements within our own borders.
What am I speaking of, today? The actions of the Federal Bureau of Investigation. Now, I can understand wanting to defend the United States. But since when did defending the United States suspend civil liberties and freedoms? Or perhaps, for that matter, due process of law?
I don't recall the Patriot Act granting government officials the right to steal from the public. Yet this very thing is happening under our very noses as we speak.
It has come to my attention that a man identifying himself as an FBI agent went into local business establishments and done just that. The man in question was an abnormally tall (well over 6'5") slavic man, short black hair, dark brown eyes, average attractiveness, muscular, late 20's to 30's. He identified himself to security at a local entertainment venue as an agent of the FBI, proceeded to enter the building, and walked out with security tapes of that night's activities. No arrests were made. No warrants were provided. He simple walked in, identified himself as an FBI agent and walked out with club property, without due process or permission from anyone.
Now I ask you, are we going to stand for this? Are we going to let the federal government robe us blind and call it "national security". I, for one, would like to know what is being done with this agent. Is the FBI going to actually investigate this matter, or are they going to sweep it under the rug and hope we forget?
I, for one, am not forgetting. And I urge others not to forget either. I urge my readers to write their Representative and ask them what they intend to do. Will they sit back and allow the FBI to unlawfully conduct search and seizures of our homes and businesses, or are they going to bring this man to justice and prove that the American government is still just?

-- Felecia Bellman, Political Editor
---
LETTERS TO THE EDITOR
---
To The Editor,
I am amazed by the ignorance and bigotry of the Vatican as of late, having enough gall to deny those politicians who support abortion the Eucharist. I urge the officials of the Vatican to reconsider your stance on this issues, in such a chaotic time that we are in.
The ideals of mankind pollute the message of God. God has granted each and everyone of us free will, to deny those his blessing, because they believe in such ideals as abortion, or homosexuality is blasphemous.
You, the Vatican, preach the message of God. It's time you stop preaching and practicing that message. Jeseuth of Nazareth the many, who you have leveled up to god-hood, has said love one another as you would love yourself for you are all children of God. Do that such thing, for they are only exerting their free will, that very right and power granted by God whom you so fervently proclaim you represent.
It's time to stop your oppression of others and show some compassion.
FOR WE ARE ALL GOD'S CHILDREN, ALL BUT EQUALS BEFORE HIM.
-- Adam Joseph
Theologist
(OOC Note: Writing this letter was rolled for, please react IC according to the dice, regardless of whether the writing above reflects this level:
Academics (Grammar): 5 Successes

Expression: 4 Successes

Theology: 8 Successes
---