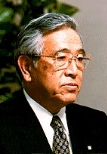 NORTHWEST - OOTORIMITSU CEO FINED; RETURNS HOME WITH NIECE: Mr. Amatsu Tohno, CEO of Japanese Conglomerate Ootorimitsu Corporation, has taken his niece, model Mireiyu Tohno, and returned to Japan last week. Mr. Tohno was asked to leave the country voluntarily, in exchange for a Georgetown

ObGyn dropping charges of attempted bribery in which Tohno demanded the Doctor forge medical test results relating to one of the Doctor's patients. The younger Tohno will likely resume her fairly substantial modeling career back home in Tokyo.
---
NORTHEAST - DC SCHOOLS RECEIVE DONATION FOR MUSIC PROGRAMS: DC Schools Interim Superintendent Elfreda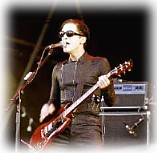 W. Massie reports that the Budget Officer has received a generous donation from Goth-Rock musician Loki, directed to be used to fund extra programming for DC's Public Schools Music Education programs.
Massie declined to specify the amount at this time, but did indicate it was substantial enough to facilitate many additional activities, replace worn and broken instruments and equipment, and provide a basis for a possible future scholarship endowment for promising Senior music students.
Massie was also quick to indicate that the donation was received well ahead of recent unpleasant publicity surrounding the singer, and was not intended in any fashion to address that matter.
---
SOUTHWEST - LOCAL CHURCH RECEIVES DONATION: Father O'Malley of St.

Mark's Catholic Church in Georgetown reported that an anonymous envelope was left in the drop box in the church sanctuary with $10,000 in large, un-sequential bills. Bank of America Georgetown verified that the money is not stolen. The envelope was marked in black pen, in neat penmanship, saying "To Thank God for My Deliverance from Evil." Church staff have no clue who their mystery benefactor might have been.
---
MIDTOWN - MUSICIAN LOKI OUT ON BAIL; STILL FACING CHARGES OF RAPE AND ASSAULT: Singer Loki is out on $10K Bond after charges that he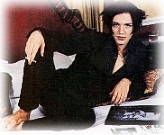 sexually assaulted his new protégé, Ms. Meghan Ambrose, in her DC Condo a couple weeks ago.
For the time being, there is no restraining order active, however one has been prepared should Ms. Ambrose request it. Loki is to submit to additional drug and mental health testing before the trial to determine his competency, and he is also ordered not to leave town for any reason, even professional ones. No statement has been issued by Ms. Ambrose's spokesperson.
---
POLICE BEAT:
DCPD received two similar anonymous tips in one week, regarding a supposed Hispanic girl, supposedly causing trouble, first fighting in a local park, then in The Hush nightclub. Both times, investigating officers found nothing amiss. The second time they did in fact locate two Hispanic women, but both ladies checked out fine and were not detained.
DCPD believes the calls are someone's idea of petty revenge on someone else they know, and wish to make it clear to the anonymous caller that false reports are a felony and will be dealt with harshly if they are caught.
SOUTHEAST: A homeless man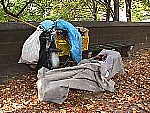 nicknamed "Crazy Bill," who was a regular at a charity kitchen in Southeast, has not been seen there in well over a month. Known for being mentally incompetent and possessing a penchant for young girls, Bill was reported to Police last seen at a Middle School playground in Southeast, taunting a group of girls outside waiting for their buses. Bill has no fixed address, and the alcove in a local park in which he often slept was deserted for weeks. Police declined to say whether this is yet another in a lengthy series of missing and dead amongst the homeless, sparking an outcry from local advocates such as The Community for Creative Non-Violence, founded by the late militant homeless rights lobbyist, Mitch Snyder.
---
---
STYLE & SOCIAL NEWS
---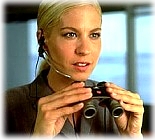 KITTY's COLUMN:
Well, readers, who would have thought that the theme of the week would ever be chastity in this town? Surprise... though it is not what you think. This Chastity is quite a Foxxx... and has returned to her stomping grounds with a big bang, so to speak. This blond bombshell has dropped herself on her hometown, making more rounds than the sexy intern in Naughty Nurses V.

First stop, that hotbed of hedonism, Web of Night, where sources say the Foxxx was in intense negotiations with Web owner MC Nomad. Clothes on, sorry to say. Overheard were snippets alleging that she was trying to recruit NSA Productions's mastermind to oversee a chain of new Gentleman's Fantasy Clubs that she is spearheading, opening first right here in Northeast, just up the street from Bound, conveniently.
What really has the town buzzing, however, is the
mystery of what brought La Foxxx to the serene and trés conservative Catholic campus of Georgetown University, prowling around the PoliSci and Comm Arts Departments this week. These hallowed halls shook badly enough when the controversial likes of Shock Rocker Anya Star and Oil Heiress Karissa Banchi graced them, never mind a professional leg spreader...
Though on a more dramatic and less surprising note, Ms. Hardly

Chaste But Often Chased was tossed out on her sequined butt last week for making quite a gauche scene and primo nuisance of herself, harassing the well-heeled clientele of Capital Hill with her imitation of Courtney Love. You can give Elvis $35 million dollars and he still decorated Graceland like a bachelor pad, and you can toss a designer gown on this trollop's liposuctioned hips and it won't make her blood any bluer than mainlining Blue Curacao does. Yes, honey, we're well aware that some of the country club set likely own your videos in secret, but the help does not mingle with the guests at dinnertime, do try and remember that...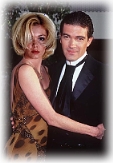 Speaking of out of control newsworthy blondes, what is this we hear about Lady Helen and her Latin lover Cross in the Web chatting about her being pregnant? Her Father must be on nitroglycerin pills by now...
On a more serious note, seems that Loki has been avoiding his usual haunt, understandably, since freed on bail, and was seen

chatting in the Phantasm with an unknown party bearing a scant resemblance to also-now-missing Shock Rocker Anya Star's half (or was it step?) sister... hopefully not seeking to follow in poor Meghan's footsteps anytime soon. At least fellow blonde Ashley Peterson has the sense to lay low of late. Loki was hardly recognizable until someone overheard him addressed by name; the usual Glam-rock makeup and wild attire put away for now as things grow serious for the Brit musician.
Ballard Family Tied to Chicago Blood Cult
CHICAGO, ILLINOIS — Police today questioned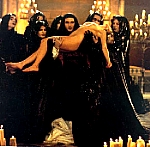 members of the prominent Ballard family on suspicion of association with the "blood cult," members of which were detained previously. The patriarch of the Ballard family has proven elusive, however, and is still sought for questioning.
---
Lightshow in New Mexico Reveals 'Angels'
LOS LUNAS, NEW MEXICO — Residents of Los Lunas reportedly witnessed a fiery light show in the skies over their city shortly after midnight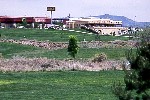 last night. Umberto Reyes, a local resident, claims to have seen three angelic figures fighting "a winged monster" amid the churning clouds, using "swords and spears of pure lightning." Reyes claims the battle raged directly over his small farm, lasting from midnight until nearly 3:00 AM, until one of the angels "split the monster open and pulled out its heart" with a resounding thunderclap that shook local houses to the foundations. Authorities and emergency services as far away as Albuquerque confirm that a sonic boom shattered windows and knocked items from their shelves at three o'clock that morning, but believe the shockwave was generated by a low-flying military supersonic aircraft. Less easily explained are the cataracts that have stolen Reyes' eyesight and the sudden hair loss that local health officials say closely resembles severe radiation poisoning.
---
Water Supply Spiked with Hallucinogens in Washington State Town
WALLA WALLA, WASHINGTON — Local police and emergency departments were flooded with over a dozen calls last night relating to unexplained sightings in the city of Faro, WA, approximately 50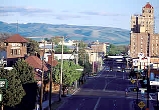 miles from Walla Walla. Officials have traced the cause to a large quantity of hallucinogenic drug introduced into the town's drinking water supply. Consultants from the Walla Walla Police Department have not as yet identified the substance. A review of recorded phone calls, however, contained similar testimony relating to "lights" and "disembodied sounds" in the homes of Faro residents. The wide sampling of similar reports suggests the same chemical affected all 15 witnesses. Scientific experts will arrive in town this weekend to conduct further inquiries.
---
---
INTERNATIONAL NEWS
---
Chinese Province Quarantined for SARS
XINJIANG UYGUR AUTONOMOUS REGION, CHINA — Ministry of Health official Ming Xian today reported the unfortunate death, from Severe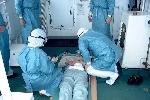 Acute Respiratory Syndrome (SARS), of Li Po Tze, investigator for the People's Armed Police. Inspector Li, who came to the Xinjiang Uygur Autonomous Region to investigate reports of sedition among the local bureaucracy, is the first victim of SARS in the region and is thought to have been infected in Beijing before his departure. If that is true, this case will be the first reported since the World Health Organization lifted the travel advisory against the Chinese capital. Dr. Ming has ordered a quarantine to prevent a new outbreak of the disease.
---
Riots and Explosion Mar Spontaneous Indian Pilgrimage
CALCUTTA, INDIA — Indian authorities were all but helpless today as mobs of people gathered along the shores of the sacred Ganges River, claiming to be there to witness "the ascension of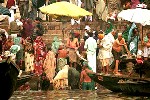 the demon avatars." The gathering turned violent when, after attendees had waded out into the river, an explosion of unknown origin rocked the scene. The crowd rioted, resulting in the deaths of well over 100 people and nearly five times that number injured. Witnesses claimed to have seen burning figures walking on the surface of the river and four-armed avatars (described as manifestations of Hindu gods) attacking people and drinking their blood. Indian authorities have declared a state of emergency and imposed martial law in an effort to restore order.
---
Gases and Night Fires Follow Scottish Quake
ACHNASHEEN, SCOTLAND — The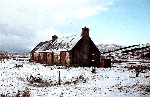 town of Achnasheen was the center of an unexpected burst in seismic activity last night, registering 4.3 on the Richter scale. Residents report sulfurous odors rising from the ground in nearby fields, and several people claim to have seen greenish lights, like flames, on the hilltops at night.
---
---
CLASSIFIEDS
---
MISC.: Ms. Chastity Foxxx, adult film star and film producer, is holding a contest. Anyone who wishes to submit a potential name for her new Gentleman's Fantasy Club, soon to open in Northwest, can win a 1 year's VIP Pass free! Please submit suggestions to ( GouGoutas@aol.com OOC) or drop a note by the club at 1750 V Street, NE. Contest ends March 1st, so hurry!
---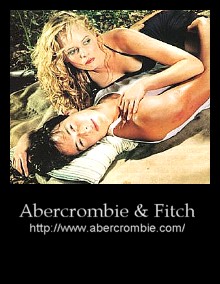 ---
HELP WANTED: Adult Nightclub in Northeast seeks Bar staff, Manager, Bouncers and Adult Entertainers, predominantly female but will consider exceptional males as well. Please email résumé, cover letter and photos to GouGoutas@aol.com for consideration.
---