NORTHEAST - CATHOLIC UNIVERSITY
PROFESSOR MISSING: Father John Fitzgerald, 46, an English Professor at the Catholic University of America, Michigan Avenue, N.E., was last seen leaving for his nightly walk earlier this week. He was known to often take a variety of routes for his stroll, making retracting his actions that night difficult for

police, as he was not a man of routine habit.
He is now legally considered a Missing Person.
CUA students officially went home this week for Christmas break. College will being Spring Session in Mid-January.
---
NORTHEAST - FBI ON OFFENSIVE IN 'CYBER WAR,' Raiding Hackers' Homes: Federal Bureau of Investigation Cybercrime agents raided yet another private home last week that was the main base of operations

for a local, small but pernicious group of Hackers.
Federal agents took into custody a renegade hacker that uses the handle "Magic Disillusion" on the internet, after catching them attempting to hack into the American Express Corporate account database and create a false unlimited corporate charge card for themselves. The hacker's real identity is being kept secret for the moment, but sources say agents arrested a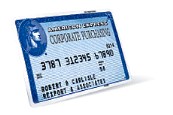 total of seven persons, either roommates, friends or fellow conspirators involved with the prime party involved. Two others are still outstanding, and warrants are active calling for their arrest. Officers have not specified which of the group arrested are actually charged with malicious hacking and which are being detained merely for questioning.
The FBI says it pursues hacker cases to discourage kids from turning to more serious computer crimes. "We've had lots of cases where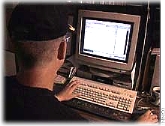 the same techniques were used to steal credit card information where the hackers can then go and use the credit cards to purchase goods," said FBI agent Michael Vatis.
Hacking into Web sites is a felony that carries a maximum punishment of five years in jail and a $250,000 fine.
---
BALTIMORE, MD - TWO LOCAL DJ'S REPORTED MISSING - POSSIBLE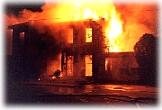 ARSON INVOLVED: Baltimore City Fire Department staff were called to respond to a 2-Alarm blaze that razed to the ground an inner city row house that was home to local Web of Night North DJ GeMiN][. The residence was gutted by fire, but no body was recovered from the scene. In addition, a co-worker has also been reported missing the same

week, DJ Ice Queen, aka Emma Frost. Frost and Gemini (legal name unknown) were both reported as missing for work by Web of Night North manager Gary Miller, and 48 hours later both are officially missing persons. Anyone with information leading to their fates is urged to call Baltimore Police at (410) 555-5800.
---
CHINATOWN, NE - RESIDENTS CLAIM WINGED MAN TERRORIZES NEIGHBORHOOD: Local residents of DC's Chinatown (primarily 7th & G Streets, NE, and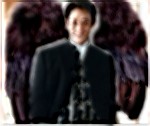 East of there) called police to report that they saw a dark winged, Asian-featured, dark skinned man in a violent, bloody fight with an unidentified person on the sidewalk around 5th Street, NE last night. Sources cannot seem to recall much of the other assailant. Locals insist the man had large black wings, and that the other person without them slew the winged man, who fell to Earth. No further information is available at this time.
---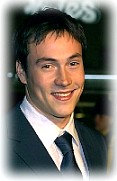 NORTHWEST - TEXAS MODEL COMES CLEAN, MAKES NEW LIFE IN THE CAPITAL: Former Cassidy Brennon Models' star pupil, Jaymes Lovier, has apparently cleared his name of any wrongdoing in the tragic death of his mentor, Cassidy Brennon. A little over a month ago, his sponsor was killed in a freak automobile accident outside their hotel while in Washington on business.

Lovier has decided to stay in the area, and is fast establishing himself in the community. Sources say he was recently offered a quite lucrative slot in the Abercrombie & Fitch print ads stable through Capitol Casting. Additionally, he has occasionally been seen around town in such varied night spots as Web of Night and the Phantasm, the latter frequently taking in Aki Oshii's torch singer performances of late.
San Jose Hi-Tech Fire Kills 10
SAN JOSE, CALIFORNIA—A sudden electrical fire at Virtual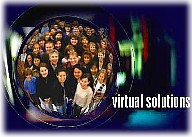 Solutions, a Silicon Valley research firm specializing in computer applications, today claimed the lives of 10 of its employees. Local arson investigators were at a loss to explain how multiple electrical fires could spontaneously occur in the same building.
According to company
records and emails, the CEO was attempting to develop a "virtual chatroom" to link all of the company's computers with an undisclosed server outside the United States. An electrical fluctuation allegedly caused several fires throughout the building, which then spread throughout the facility in seconds. Special consultants from the National Security Agency are set to arrive later this week to examine "new angles" in the investigation.
---
Miami Woman Sues 'Orgy of Blood' Cult
MIAMI, FLORIDA—Local resident Laetitia Hawkins has retained counsel against alternative-faith ministry the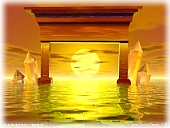 Typhonic Temple of Illumination. According to her lawyer, Hawkins plans to testify that she was being groomed for advancement in the temple's hierarchy, but once she found that its members indulged in practices of dubious legality (key to the affidavit is an "orgy of blood"), she asked to withdraw from the organization. Shortly thereafter, its members detained her and physically assaulted her.
Detroit City Councilman Shot and Killed by Police

DETROIT, MICHIGAN—City Councilman Leonard Dates was shot and killed today, after a stand-off with police at radio station WKNN. Dates had taken captives and hijacked the station's broadcast, demanding that he be allowed to read the biblical Book of Revelation on the air. Dates insisted that Judgment Day had come and that people's souls would be claimed by the Devil's "monsters."
---
INTERNATIONAL NEWS
Israel Names Cult As Tulkarm Target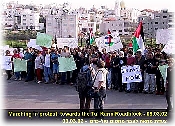 JERUSALEM, ISRAEL—An Israeli Defense Force spokesman today named a previously unknown religious sect called "the Amkhat" as the target of recent incursions into Tulkarm and other West Bank towns.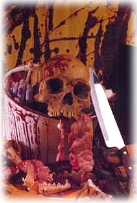 An IDF dossier released to the press accuses this cult of a wide variety of outrages, from terrorist activities to ritual cannibalism. Palestinian Authority representatives called the Israeli claims inflammatory, but insiders whisper that the Authority has been trying to root out Amkhat for some time. Meanwhile, Egypt announced that it was withdrawing its support from the current round of peace talks, citing the Tulkarm incursions and "Israeli fabrications."
---
Immigrants Killed by Satanic Cult in Germany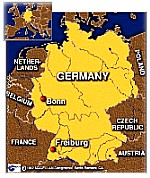 BONN, GERMANY — Local police responding to a disturbance in the city's warehouse district this morning discovered the bodies of 23 immigrant workers slain in what one police spokesperson described as a "violent Satanic ritual." All of the victims were arranged according to a complex pattern laid in chalk across the floor of an abandoned storage facility, and according to

forensics reports, all of them were killed within moments of one another. Sources within the police department revealed that a ragged hole approximately three meters across appears to have been burnt through the roof of the structure directly over the ritual site, but refused to speculate on the cause. The perpetrators remain at large.