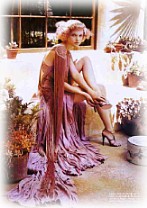 NORTHEAST - FASHION FÊTE ENDS IN BRAWL: Vogue fashion model Angelique D'Aubigne, from Anguilla Island, hosted an extensive private holiday soirée on Halloween evening at the newly refurbished Orpheum Theater in Northeast. During the course of the evening, guests were treated to a full spread of finger food and drink, and free reign of the theater's first floor, magnificently restored to period.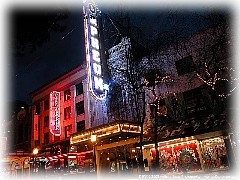 Goth musician Loki provided a live mini-concert at the party. His set included Bela Lugosi Is Dead (Bauhaus), Darkness Of The Soul (Whispering), Please, Kill Me, Self Control (Laura Brannigan), Voices, and a new single, Death, Inc.
Supposedly Meghan Ambrose was to appear in person to plug her new album, "The 12th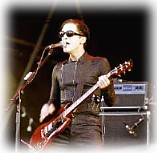 Night", but only Gabrielle Wildwood was seen with him that party-goers were aware of, arguing after the singer performed a horrifically realistic faking of his own death on stage as a prank during one of his more morbid numbers.
At about this time, another prank gone very wrong occurred at the party. 2 beings burst through the front of the theater: one seemingly male, in glistening black armor, astride a horrific black lizard-like dragon; the other, female, golden flowing hair entwined
with ribbons and flowers, astride a Pegasus. Behind them shambled robed, scaly figures armed with ancient siege weapons, the leader bearing a banner standard in an unknown language. Several patrons were too frightened by the realism of the display and vacated in terror. A third man, already at the party, one of three dressed as Death, was assaulting patrons with his scythe as well.
The dragon rider appeared to beat the hostess to death, blood and viscera spewing from the scene inside the theater proper. The second rider merely circled and guarded the antics of the first, then when the hostess seemed vanquished, scooped up her broken body and rode with it on the white winged steed out into the night.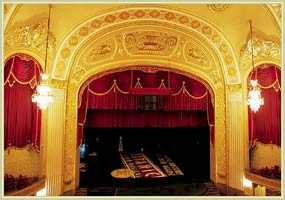 Unlike Loki's performance, this death was not soothed by a disclaimer soon afterwards. Eventually, sensing that this may have not been a prank, police were summoned and the party ended. Several witnesses give varied reports of the chain of events. It has not yet been determined whether this was indeed another elaborate Halloween prank, a publicity stunt to gain notoriety for the freshman model, or indeed some manner of bizarre crime.
NORTHEAST - Elderly Chinatown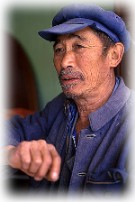 Restaurant Owner Missing: The owner of the Good Fortune Tea Shop, Mingsu Lo Cho, 66, was last seen running the late shift alone in his restaurant in Chinatown. He never returned home from work that night. There were no signs of struggle in the shop, and it was locked up for the evening. Police have no leads at this time.
SOUTHWEST - GEORGETOWN - MAGIC SHOP LOSES ITS SPARKLE:
DCFD reports that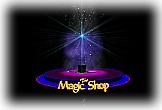 vandals set fire to a newly opened curio bookshop on M Street earlier this week. "The Magic Shop," a bookstore and new age and occult style store, was destroyed in the blaze, and most or all of her inventory with it. The owners are currently settling insurance claims and have not said whether the shop will ever reopen.
NORTHWEST - GOLDBERG'S VICTIM IDENTIFIED: Back on Friday, September 12th, witnesses at Goldberg's Eatery on 15th and K Streets, NW reported a violent disturbance. While details are still sketchy, most say that several gunshots, as well as screams and raised voices were heard.
As of yet, no one has been found to have visually witnessed the events, and the police have declined to comment on the mystery at every turn. It has been confirmed that there was at least one death, and at least one other suspect at the scene was taken into custody and later released. Their identity is being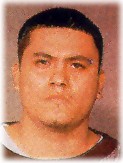 withheld as the third party is said to be a minor.
The victim at the scene was a Hispanic male in his 20's, who thus far has only been identified as "Sergio", no known last name. His body was covered in numerous scars, gang markings, and tattoos written in Spanish of a profoundly religious nature. No next of kin has been located as of yet. His cause of death has not been confirmed but sources say it was, strangely, not by gunshot wounds. There were signs of electrocution on the corpse.
No further information has been forthcoming at this time.
SOUTHWEST - SOCIAL COLUMN: While Loki's latest conquest, financial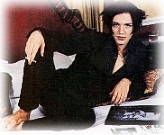 debutante Emeritus Ashley Peterson, and he have been spotted around town once or twice since their first hook up in Web of Night, sources say the couple are already on the brink of being history. Several onlookers reported having seen the Trickster God and on-again, off-again steady playmate, Gabby Wildwood, having dinner in the new "blue-collar trendy" Black Iron Restaurant, where Ms. Peterson, unaware of their presence, also showed up earlier this week.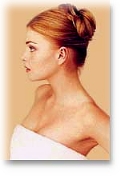 While the interaction between them was civil enough, it was said that Loki at one point got up and went to talk to Ms. Peterson at great length. The conversation was rather animated, with both parties glancing back at Wildwood from time to time. At one point, Ms. Peterson rose from her table, and planted a very passionate kiss right on Loki's mouth, in full view of everyone, then excused herself to the restrooms. Onlookers say Ms.

Wildwood did not look pleased about this at all. Loki returned to his table, as did Ms. Peterson minutes later, and continued their respective dinners.
After Loki and Ms. Wildwood finished theirs, Loki returned to Ms. Peterson's table and continued a conversation, equally animated and heated at times, until Ms. Wildwood joined them at the end of their meal. Several witnesses say

that the exchange was superficially friendly but tense, and Ms. Wildwood departed, commenting something that was said to have sounded like, "...(something garbled) I'd have told her we F____ed earlier," and then walked out on the couple. Ms. Peterson soon stormed out, after paying her bill, with Loki apologetically in pursuit.
REGIONAL NEWS

Local - Daily Press, Hampton Roads - Earthquake at 4.5 hits region from MD. to NC: A minor earthquake centered just west of Richmond was felt from Baltimore, Md., to Greenville, N.C., on Tuesday afternoon with the power to shake pictures off walls and rattle windows but not enough force to cause any significant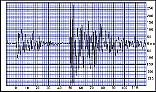 damage. The 4.5 magnitude tremor started at 3:59 p.m. and lasted for about 25 to 30 seconds, according to geophysicists at the U.S. Geological Survey in Reston. It was centered about 28 miles west of Richmond and 104 miles south-southwest of Washington and was shallow, about three miles below the Earth's surface, officials said.
NATIONAL NEWS
NASA Calls New 'Red Star' a Comet
CAPE CANAVERAL, FLORIDA—The National

Aeronautics and Space Administration (NASA) today issued a press release regarding the appearance of Stellar Object #2001KX76, the tabloid-dubbed "Red Star" that recently became visible to the naked eye. The press release stated that details were still "admittedly inconclusive," but that the object is more likely to be a comet than a self-sustained radiant object.
Dead Man in Wheat Field Was Pro-Life Extremist
WICHITA, KANSAS—Police are still investigating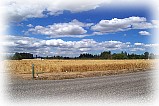 the murder of Wendell Delburton, whose body was discovered Saturday in a wheat field outside Wichita. Delburton, a traveler with no fixed address, was impaled through the throat with some kind of stabbing implement. Police say that Delburton was a former Marine and pro-life activist, and that the killing may be related to claims that he had been involved in attacks on abortion clinics in 1997. Anyone with more information on Delburton's activities is urged to contact the FBI.
INTERNATIONAL NEWS
Israeli Incursion in West Bank Kills 24
TULKARM, WEST BANK—Violence continued in the Middle East today, as Israeli military forces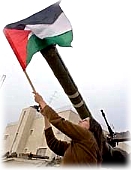 sought Palestinian resistance fighters in the West Bank town of Tulkarm. Israeli attack helicopters fired rockets at several cars believed to carry senior leaders of the resistance, killing seven and injuring 46, while Israeli troops opened fire on protestors during house-to-house searches, killing 17 and wounding as many as 35. Palestinian authorities decry the attacks as "completely unprovoked," while Israeli military officials insist that the Palestinians are harboring terrorists.