NORTHEAST - SOUTH DAKOTA CONGRESSMAN DEAD: Congressman Billy Joe Haddox, 52, of South Dakota, was found dead in his own bathtub, naked, water running and the drain open. Traces of blood were found, his wrists and throat slit by a surgical-grade instrument.
DCPD responded to a call from Congressman Haddox's Office after he did not report for an important meeting with Lobbyists this past Friday.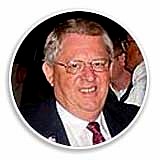 Off the record, the Congressman was known to have a taste for young women, and had even been facing potential charges for statutory rape by three as yet unnamed defendants (names withheld due to their age).
In his untimely death, Haddox avoided facing a House ethics investigation and possible expulsion. House rules also say representatives who plead guilty or are convicted of a crime that carries more than two years in prison should not cast votes until their records are cleared, or until reelected.
Vacancies in the House of Representatives are filled by special elections, while gubernatorial appointees generally fill vacancies in the Senate.
Haddox's loss cleared the way for possible successors, including Republican John Thune, a former congressman who had been trying to decide whether to challenge Senate Democratic Leader Tom Daschle or run for Haddox's seat should it open up.
---

NORTHWEST - VANDALS OR SNIPER ATTACK COUNTRY CLUB: DCPD responded last week to a report of shots being heard fired near or at the Country Club "Capital Hill" in Kalorama.

Upon arrival, officers noted that the middle top window, which had only just been replaced a couple of weeks ago after having been smashed in somehow, had now been shot out from the outside going in. There were no signs of the bullet to be found or what precisely other than the window was damaged. The Club owners, AV Ventures Holding Company, were not available for comment at press time.
---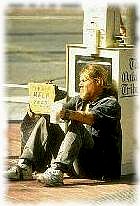 SOUTHEAST - MULTIPLE HOMELESS AND PROSTITUTES REPORTED MISSING: DCPD reports that they have received over 12 reports in the last two weeks alone, of various homeless, buskers, prostitutes, junkies and other street types missing, primarily in Southeast but also in other parts of town such as near missions.
This is not including those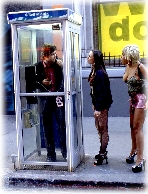 reported murdered over the last two months, and sources confirm that none of the missing were the crime victims reported elsewhere.
Police have no motive or leads at this time, but suspect a tie-in to the earlier rash of homeless reported being abducted near the Monuments and Tidal Basin in Southwest.
---

CRIMEWATCH - MISSING PERSONS ROSTER: DCPD has received reports on several missing persons in recent weeks. A second Asian restaurateur, Bryan McGuire, owner of The Black Iron in Georgetown, has been reported by his staff as missing for over a week. The Black Iron remains open under the supervision of its manager, as the investigation continues.
In other reports, co-workers and friends have reported the young woman involved in a strange altercation in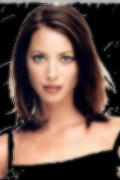 Web of Night last month, Margret Rae Hudson, as missing as well. No leads have been found, and Ms. Hudson's two known associates, Maxwell Summer and Ceilidh (OOC assume her last name is in here, I did not have time to chase it down with the player), are also missing as well. Their Tattoo parlor, Sacred Skin in Midtown, was abandoned, leaving police to suspect foul play. No other information is available about either disappearance at this time.
---
---
STYLE & SOCIAL NEWS
---
NORTHWEST - PHANTASM RIVALS WEB OF NIGHT AS DRAMA HOT SPOT: While certainly no one would impune the reputation of the Web of Night as Mecca for the dramas and gossip of Doom City, it is not unheard of for other places, other crowds and venues to have their own lion's share of eventfulness. Seemingly ever since The 11th Hour Lounge blew up years ago, there's been a 3 or 4 way competition to rival it for drama, gossip, and unusual, even ostensibly supernatural, happenings.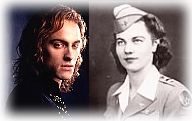 First up to bat this week, the striking, violet-eyed lothario circa Bound has turned up more frequently of late on the other side of town, in Jazz depot The Phantasm. He was seen partaking in slightly lesser fare than last time, with an Amazonian woman in a repro'd WASP uniform kneeling at his feet, making quite a show in the club. Perhaps he forgot Bound was closed that night and it confused him, who can say...

For the second quarter, we take you back to old favorite The Web for yet another installment of the now-well-past-its-15-minutes dance between Loki and Ashley Peterson. However, there was a bit of a new step to this worn out rag... The crowd in The Web was taunting Peterson, who clearly has always been something of an

outsider to the Vampire wannabe crowd with her Golden Girl idiom, and Loki started picking fights with the hecklers as she stormed out. But it gets even better. On her way to pick up her coat and leave, Peterson somehow ends up in the embrace of a new player

in this drama, an unknown young man, in the required uniform: slightly long, boyish black hair to the jawline, black shirt, black pants, sour expression, you know, something unusual. They remained that way long enough to get the expected odd looks and parted ways soon after. At least Peterson is fairly consistent in her tastes of late.
Round Three of Celebrity Mix and Match this month is the model couple, or a couple of models, shall we say, that same night Chez Web. New AberFitch stud Jaymes Lovier seems to be fitting right into the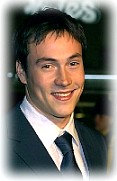 wicked web Washington weaves, this time branching out into familiar territory for him; other models. Seems we have a new flower in the garden, an exotic Asian blonde one, in fact. Mireiyu Tohno has arrived in America with her Uncle, Amatsu, CEO of Japanese conglomerate Ootorimitsu Corporation. Tohno (the younger) apparently is branching out into the Western modeling market, though we had thought professionally until sources saw her trying to branch out into Lovier at the Web. But it does get better, later in this column.
And for the quite dramatic final quarter of this game, not to be outdone in the soaps, The Phantasm pops back up with what seemed like the Asian invasion into the social spotlight. No such night can start sans chanteuse Aki Oshii, blissfully not prone to excessive Diva-dom as some in this town. Her performance, by the way, was a treat, as always, and was gracefully not unhinged as she clearly noticed her new-found friend newly finding friends of his own. A far cry from a month ago, when they attended a show at the Kennedy Center, seemingly quite close then.
[CONTINUED IN COLUMN B]
---
Chicago Vampire Cultists Behind Bars
CHICAGO, ILLINOIS—More than a dozen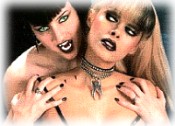 members of a Chicago area "blood cult" were arrested last night on suspicion of numerous charges including kidnapping. The "blood cult" maintains that it existed to satisfy the whims of its "dark mistress," whom its members insist is a vampire.
---
Bayview Killer Terrorizes San Francisco
SAN FRANCISCO, CALIFORNIA—Seven brutal murders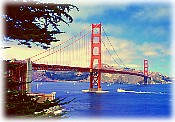 have occurred within a 15-block radius in the Bayview area of the city over the past two months, police sources confirm. The most recent victim was discovered Tuesday. All the victims were killed in what police describe as a "ritual" manner, their bodies drained of a considerable amount of blood, which was not found at the scene of any of the crimes. The San Francisco Police Department informed fearful citizens that it is following "all possible leads" in the case of the so-called "Bayview Killer," but admits that it hasn't made much progress.
---
Mass Grave Uncovered in Atlanta
ATLANTA, GEORGIA—Civil engineers recently unearthed what appeared to be a squatter colony in a sewer junction beneath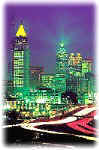 the streets of Atlanta. Upon further inspection, the subterranean structure turned out to be some type of crypt, as bodies were found in extreme stages of decay and disfigurement. Doctors suggest the makeshift tomb might have been a yellow fever (or other epidemic) mass grave not unlike the ones found in nearby Savannah. Others remain dubious, as the bodies seemed too fresh to have been buried at the time of the yellow fever threat.
---
---
INTERNATIONAL NEWS
---
Pope Gives Doomsday Address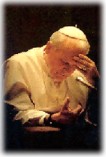 VATICAN CITY—His Holiness John Paul II today issued a papal proclamation condemning the growing trend of violence, militarism, atheism and "pagan idolatry" across the world. Although such declarations from the pontiff are not unprecedented, his especially harsh language has worried several observers. One Vatican insider told journalists, "In the past, His Holiness has been a firm but benevolent advisor. This time he's speaking of Judgment Day."
---
Twin Tremors in Egyptian Desert
ALEXANDRIA, EGYPT—Researchers today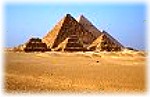 reported strange tremors emanating from the Egyptian desert. The quakes, not measuring more than 2.1 on the Richter scale, seem to originate in two spots barely a mile apart, and as the aftershocks from a quake in one location abate, a new one begins in the other.
---
Egyptians Claim to See Bible Passage 'Floating in the Air'
CAIRO, EGYPT—Multiple witnesses reported seeing ethereal text floating through the Khan al-Khalili in Cairo last

night. The text, reported by some to be in Arabic, others in Hebrew and still others in Aramaic and Greek, seemed to be a passage from the Book of Exodus: "Stretch out thine hand toward heaven, that there may be darkness over the land of Egypt, even darkness which may be felt."
---
---
STYLE & SOCIAL NEWS (CON'T.)
---
Lovier, who ought to consider dropping the "I" from his name at the rate he is going, attends her performance, as has been common with him of late, but apparently we were wrong and his interest was not romantic, as this time it was BYOD - Bring

Your Own Date, none other than Mireiyu Tohno. So, perhaps, at least this Gentleman Prefers Blondes. Of course one could make the point that he was simply being a good host to a tourist, but most tourists do not publicly treat their guides as if they were collared (in the sexual sense, mind you) by them. She certainly put the def in deferential that night, let us just say.
Not to be outdone, Oshii, ever the performer and a New Yorker at that, lavishes extra attention on two or three unknown patrons, all seemingly of some kind of Asian heritage, interestingly enough (a statement to Lovier, perhaps, that she too can return to her roots if he wants to play that game?). Attired in a vintage deep-rose velvet evening gown and gloves, the honey was poured into the microphone, trapping the room in her little fantasy world for the evening, not missing a beat, on or off stage.
Now, sometimes coincidences happen, but it seems almost as if Oshii was so on the

ball that she could tailor her repertoire to save face that night. Starting off the set with Billie Holiday's "It's A Sin To Tell A Lie," she wooed the audience into another time and place with ease. Following up with Lena Horne's "How's Your Romance?", Oshii warbled like the songbird we have all come to know, and did not disappoint, though the savvy could sense the gauntlet hovering in the air. No reaction from Lovier and Tohno as of yet, other than the typical appreciative claps.
For the finale, Oshii pulls out a standard for her, the number that blew them away at the opening of Cap Hill and ever since, "Big Spender" from Fosse's "Sweet Charity." Working the room for this one, she made her rounds, flirting and tormenting the patrons as always, though the timing of some of her lyrics as she passed Lovier's table was priceless, throwing down that gauntlet in such a subtle way that we believe he thanked her for it. The show ended, and she spent a few minutes chatting the pair up, who seemed by this time to be quite thoroughly non-plussed, Oshii leaving the table and the venue for the night, alone, while Lovier drove his petite sushi home once more. Brava!
CODA: It came to our attention, just before press time, that we've apparently got Lovier's number (and so do an increasing number of eligible women in this town)... It seems that on top of his other antics, he found time to take a detour to The Phantasm Lite, aka The Hush, and was spotted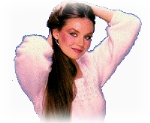 with a very drunk, familiar looking brunette; the same woman who has been seen in The Hush and other venues with Professor Aephestus, whose name we still have yet to find out, though sources overheard the good Professor address her as Allison. Anyone have the scoop on this mystery woman? We know Lovier does... he poached the Prof's piece and took her home. No doubt being a gentleman to the intoxicated damsel in distress...