The video begins...
The opening sequence starts on a calm but mysterious, inviting note. The camera zooms in on a magical fantasy garden, something of a Paradise allegory. Ingels is portrayed here as a dark figure, but attempts to be more romanticized and position himself as a creature of wonder and magic as well.
---
The mysterious host (Ingels) beckons the viewer to come below the garden with him, into a stonework entrance that leads to an underground passage.
---
Ingels continues to weave his web of magic and intrigue, making grandiose gestures, drawing the audience into the garden's foreboding underground labyrinth with him.
---
Interspersed with scenes from the labyrinth are shots of Marx in crucifixion and sacrificial poses, right in the middle of Times Square. These are used connotatively rather than literally- Rather than a stage effect, the jarring and perennial icons of Manhattan's perceived coldness are supposed to harden the feel and tone of the scene.
---
In the underground labyrinth, the main character (Ingels) begins what seems to be an elaborate magical ritual of conjuration or summoning (it is at first unclear). Bathed in blood red lights, the makeshift stage then explodes in a shower of sparks and fire.
---
The ritual continues in a building frenzy, with sacrifices, levitation and other shows of magical power, out of which comes forth a dark, young woman; a sinister yet perilously seductive Angel of Death, seeming to suddenly emerge from some type of portal or Abyss, in a rain of fire and blood.
---
The summoned Angel of Death, a siren both parlously alluring and yet brutal, comes to life before Ingels's eyes, seemingly summoned by his sorcerous antics. She cuts a standard gothic figure; a pale skinned, heavily tattooed & pierced, ebony-haired young woman, raven-winged, scantily clad. The Angel steps out of the shadows, still splotched with blood, and approaches Ingels in an exaggerated, predatory sort of prowling step.
(NOTE: The first and third pictures here are © Dorian Cleavenger ( www.dorianart.com ) Please support this fine artist.)
---
Ingels posturing for his new Dark Angel, thinking himself in command of her powers, singing to her. With the puissant creature seemingly at his command, they embark on a cornucopia of hedonistic and taboo erotic delights, pushing the boundaries of concupiscence past reason into a brutal frenzy.
---
Marx's cold-blooded Mistress of the shadows stalks the dark labyrinth, taunting him, testing his limits as he tests hers. She seems to just shift forms, or at least attire, several times, from courtesan to goddess. Throughout her many guises, however, she continually comes off as morosely somber and haunting, rather than outright seductive in the traditional sense. They square off like in a B-Grade Gladiator film, each seeking to control the other. Marx performs another ritual or spell and banishes the Angel temporarily into a cage.
---
Marx manipulating fire, trying to evoke an image of himself as some kind of "Master of Hell. "
---

After the amusement factor of his captured prize begins to fade, Marx removes the Angel from her cage, taking her as a lover. This next scene is a montage of numerous flash shots of Ingels and the Angel in various stages of undress, involved in fairly pedestrian, discreetly filmed sexual acts. However, this is merely the beginning. Their trysts soon become more frenzied and aggressive, alluding to future brutality later in the video.
---
After dabbling a bit in more aggressive coupling, Marx releases the Angel momentarily, taking her hand and leading her into yet another level of the labyrinth, unveiling a room replete with all manner of fetish wear.
He gestures for her to avail herself of the offerings, locking her in there for the moment and waiting outside. She emerges, in a deceivingly submissive-looking outfit, the same chilling, emotionless cold stare in her eyes.
---
Decked out in very little at all, mostly chains and strips of leather, the Angel is released from the room and returns, commanded by Marx to submit herself to him once again.
There are several more interspersed shots of various acts of carnality, now edgier than before. They continue to push the envelope into feigned rape, group sex and moderate bondage play.
---
There are some "Cut-away" shots of the pair on stage with Marx's band in concert, simulating acts from the video in front of the audience. It is not clear whether this is actual concert footage, future concert rehearsal footage, or staged for effect.
(Photos property of The Genitorturers)
---
Egged on by the rush of perceived control, Marx ups the ante even more now, restraining the Angel again, and inflicting upon her a veritable smorgasbord of cruel, sexually deviant torments, increasing in severity as he works, a sort of dazed, feral hunger in his eyes.
---
During the next scene, which turns especially violent, Marx and some unidentified "helpers" engage in some heavy "breath-play," submerging the Angel under water while restrained and manipulating her air supply.
At this point, the game apparently goes a step too far, and it looks like Ingels ends up asphyxiating her. Ingels has a somewhat strained, shocked look on his face.
He pulls her now-limp, unmoving body from the water, removes the restraints... and then has sex with the fresh corpse, seemingly almost a twisted form of outrage and denial of her death, rather than actual disrespect. A keen eyed viewer, however, might catch a brief glimpse of subtle signs of life in the "corpse."
---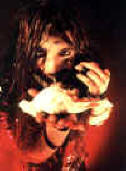 Ingels emerges from this orgy of brutality as an inhuman, soulless monster, a mere emotionless shell of a man (not a stretch for him to portray).
Here, evocative of his ancestors of Shock Rock, Alice Cooper and Ozzy Osbourne, Marx cradles a dove, a sinister smile on his face, then breaks its neck with his bare hands and bites into its belly, blood caking his clownish, leering jaw.
---
Marx again evoking the crucifixion position in flash shots interspersed with shots of him laying with the "dead" Angel, perhaps casting another ritual to bring her back to him...
---
...when suddenly the broken, violated form lying spent near him twitches and moves, rising back to life, most of the marks and bruises already miraculously healed.
She rises from the dungeon floor and immediately heads for Marx, dragging him to the floor and coupling with him, her manner this time dominating, growing increasingly vicious. Perhaps some form of "payback" or role reversal.
---
The resurrected Angel of Death chains Marx up in the dungeon in a montage of cutaway shots of him being put through the paces he'd earlier subjected her to, seemingly now free of his command.
---
More shots of Marx in various restraints, as the Angel gives him a taste of his own medicine, and then some.
---
The Angel continues to torment Marx as he dealt her, no longer bound by his whim.
---
She subjects him to an equally wide variety of tortures, torments and abuses, treading the thin line between pain and pleasure, though she does not seem to relish his cries of pain the way he did hers. Her work is methodical and cold, detached, almost professional.
---
After subjecting Ingels to a battery of harrowing and molestation, she unchains him, watching him prowl around the labyrinth for a while in his overloaded, soporific animal haze.
---
Nearing the end of what seems like an endless parade of sick, hedonistic and sadistic abuses and violations, Marx's character is broken, ghoulish and cold, like his Dark Mistress, a grim testimony to the adage, "Be careful what you wish for."
---
Finally winding down, running out of energy, Marx collapses at her feet. One last time the Angel chains him lying down and mounts him, though there is no passion in this rutting. She shifts forms before our eyes, into a magnificent, yet malevolent creature.
The special effects at this moment and hereon out, are strikingly higher quality than her entrance, perhaps a budgetary decision, or else the result of the hands of others completing the work since Ingels did not.

As the Angel shifts forms, there is a rising chorus of commotion and screaming in the background from indistinct sources. The camera angle shakes and then freezes at one position. There continues to be a litany of crying out and wailing, pleas for mercy from parties previously not in the scene.
The Angel places her hands upon a now quite clearly terrified and trapped Marx's chest, this being the first time Ingels shows any ability to act emotions other than lustful. She utters some unintelligible command, and suddenly Ingels's body, the slab of stone he laid upon, the Angel's fetish-wear attire, and everything else within a few yards of the couple, suddenly vaporizes to ash.
At this point, the camera seems to teeter, the sound also becoming muffled and echoing as if the microphones for the video were displaced. In something of a Blair Witch Project rip-off, the camera falls to the ground, showing only an obscured shot of shadows where the Angel's feet and legs ought to be.
If you judge by the scant view afford by the remaining camera, she simply rises, brushing the ashen remains from her body, her expression too difficult to discern at this angle.
---
After seemingly destroying Ingels's character, the Angel then simply disappears back into the shadows from which she was summoned.
The footage continues to roll until she is gone and for some time after, ending with a shot that implies the camera was found and picked up by someone after the fact.
This ending shot was likely left in on the final edit to further fuel the implication that somehow all those in the last scene fled in fear, even those on "The Fourth Wall" (those behind the lens, not part of the video itself).
--- and the video ends.
---
NB: The images used to portray Marx Ingels are the property of magician Criss Angel, and are posted solely for the purpose of visually representing a fictional portrayal of a character in a private, not-for-profit role-playing game.
Please support Mr. Angel's work at www.crissangel.com
Some pictures of the Angel of Death are credited individually above.