DAILY SPECIALS AT THE BLACK IRON:
MONDAY - MEXICAN / SPANISH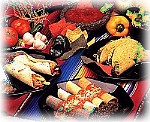 Foods of the Spanish speaking peoples in Spain and Latin America;
Mexico, Guatemala, Central America, South America and the Caribbean.
TUESDAY -
ORIENTAL / ASIAN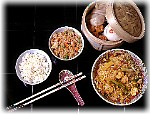 China, Japan, Thailand, Vietnam, Korea, & The Philippines
WEDNESDAY - SOUTHERN & LOCAL CUISINE

Dishes from Virginia and The Carolinas, featuring local vendors and historic recipes of the region
THURSDAY - FRENCH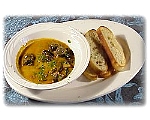 Nouveau cuisine; usually an aperitif, l'entrée (starter), le plat principal (main course), le fromage (cheese tray), le dessert, café (coffee) or digestif, & vin (wine)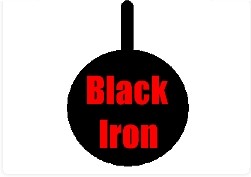 The Black Iron is situated in a large, two-story building. Above the entrance is their "signature" signage, a large black iron with the words "Black Iron" cut out and the space filled with red glass, lights underneath to make the lettering glow. When you first enter, you are greeted by a hostess sitting behind a large glass counter. She will direct you either to the Restaurant (left) or the Lounge (right).
The restaurant is comprised of a large dining area, capacity about 200. Booths line the walls by the windows, and tables with chairs fill the floor area. Lighted by a large chandelier, additional lighting is provided by polished gas lamps hooked into the walls with light bulbs for a warm, soft ambiance. An opening to the kitchen shows the cooks and waiters working at a hurried pace. Fans keep the smoke and most of the smells from drifting out, but allow just enough out to help whet the appetite. The staff is always courteous, and quick to help patrons find a table and take their orders.
The menu is large and varied. Traditional American cooking is always available; but, on various nights, cuisine from other countries is available. Being Tuesday, tonight's featured menu special is Oriental Cuisine, including Chinese, Japanese, Mongolian, and Korean foods.
On average, for example, a 7 oz. steak, beer (or other drink of choice), a basket of rolls and butter, bread sticks or garlic bread, as well as a bowl of soup, and appetizer runs about $20.00.
In addition to a large selection of mixed drinks, the Black Iron also brews its own beer, lagers and ales, as well as sipping whiskey and bourbon.
---
THE REVIEW
This is a departure for me, as traditionally I tend to turn my scrutiny to those establishments rated 3-Stars and above by Fodors, AAA or other standard hospitality industry bodies. This was a favor to my sister, who is acquainted with the owner, Mr. Bryan McGuire. I was accompanied for this mid-November review by my sister, Ashley.
When we first arrived, we had a bit of a wait. In line was Rodrigo Sanchez of the Embassy of Uruguay. He spent a great deal of his time in line chatting in Spanish loudly enough to be overheard, with two ladies we did not recognize, though Ashley seems to know them vaguely from The Phantasm. They almost seemed to be a couple, in fact. Also in line was Gabrielle Wildwood's bodyguard Raine, donning vintage Johnny Cash, and Kailian Abyssinian, the second-string chanteur at The Hush, attired as he often is as if fresh from The Chesapeake House.
The staff actually seated Señor Sanchez and the young Spanish-speaking women first, though we'd arrived before them. Perhaps a table for three was easier procured than one for two with the rush of new business. Raine, brash and riding on the laurels of nouveau chic uncouth as usual, escorted himself to an empty table, though I do believe it was not yet set up for guests. Finally, we were brought to a quaint, red-checkered table-clothed table in the middle of the dining area.
The waiter was prompt, at least; well-groomed, attentive, and spoke clear and understandable English (you have no idea how increasingly difficult that is to find in this area of late.) I have an unsweetened Iced Tea, light on the ice, and Ashley has a Perrier and lime twist. The waiter recommends beer-battered shrimp, made using beers they brew in-house, as appetizer. I peruse the beer selections for later exploring. I accept the shrimp; Ashley has a French Onion Soup. Neither factors in to the featured Cuisine du Jour, Asian/Oriental, but we shall deal with that soon enough.
As we wait, I examine the very traditional, quasi-Southern edged decor; the simple, red-checked tablecloths, steel napkin holders. Of note is that the Black Iron puts rice grains in the salt shakers; a country trick to fight humidity buildup that one rarely sees inside the Beltway any longer. Clever gesture.
I notice that Raine leaves extremely early, though did not notice if he actually ate or not. Perhaps he was scouting out the place for Ms. Wildwood to dine here, though I have trouble picturing it... then again, I am here, n'est-ce pas? The appetizers arrive with our drinks, but not significantly delaying the drinks. The Shrimp were modest in size, but generous portions. Ashley commented that the French Onion soup was a touch salty but otherwise passable.
The beer-battered shrimp were presented on a heavy oval dish, fanned on the right side, with three dipping sauces in tiny cups on the left, nestled in a bed of slightly limp lettuce as garnish. They were piping hot when brought out. The batter, made with in-house brewed beer, was mild and slightly crunchy, with subtle bready flavors lingering after a bite. There were three sauces: traditional cocktail sauce, a sort of Teriyaki influenced Asian style sauce (no doubt a paean to the Theme du Jour), and a rich, honey-mustard sauce, traditionally seen with chicken fingers but not unworkable here. The shrimp could have been de-veined, but otherwise all was as expected.
The waiter soon reappears, asking for our dinner order. We decide to explore feature dishes in keeping with tonight's specials. Ashley has the sushi sampler (hold the eel), a side salad with ginger-soy dressing (hold the croutons and tomatoes), and a bowl of sweet and sour soup (with baked, not fried wonton crisps). It's almost like eating with Meg Ryan in "When Harry Met Sally," except she is too lady-like to recreate the diner scene. I ask the waiter what the specials are for the evening, in keeping with the featured cuisine. Apparently they are having Peking Duck, hand prepared by the owner personally. I decide to brave it, though proper Duck is so rarely accomplished. I have a side of steamed white rice to cut the fattiness, and a Tsingtao beer, no offense to the house brews.
The waiter was surprisingly prompt with our main courses; in fact, so much so that I began to worry it was pre-prepared and only kept on warmers. Fortunately, this seemed not to be the case. He apologized that the house beers were not suitable for this dish, as he brought out the Tsingtao. Perhaps he'll consider including a lighter, Asian style beer of his own design if this themed night continues in the rotation.
I still maintain that the duck at the Adam's Mark in Philly is without peer, but this was tolerable, I suppose. The meat was not terribly dry, but neither was it completely succulent and above standard. The skin had a nice, sweet and tangy glaze on it, and the rice helped assuage any issues with greasiness. While I could not personally review my sister's meal, I was told the Sushi was not the freshest she's ever had, but was definitely within standard. The salad got rave reviews from her, as did the soup.
Overall, the Black Iron knows its niche, and is entrenching itself quickly into it, but perhaps is being a bit too ambitious early on, in its multi-cuisine approach. A charming idea but they may have bitten off more than we can chew. My basic take on it is that they can present a wide variety of cuisines with adequate skill, but they do not seem to excel to 3 or 4 star level in any particular one of them. We will have to return to specifically review the beers and spirits they make in-house, another time. For a modest budget, or for a large group with eclectic and varied tastes in cuisine, who want something more than Denny's or Ruby Tuesday's can offer them, this venue will answer those needs adequately.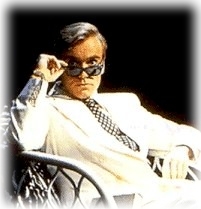 Bon appetit!
Blayne Peterson,
Post Food Reviewer
DAILY SPECIALS AT THE BLACK IRON:
FRIDAY - SEAFOOD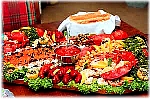 A selection of various fish and shellfish, including salmon, oysters, crawfish, prawns, Maryland crab cakes and Lobster, imported fresh daily.
SATURDAY - INDIAN, AFRICAN & MIDDLE EASTERN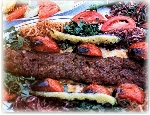 Dishes from India, Greece, Pakistan, The Mediterranean, Africa, and the Middle East
SUNDAY - ITALIAN (NORTH & SOUTH)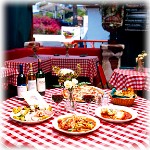 A variety of dishes from both Northern (heavy, pork & cream based) and Southern (lighter, seafoods, red sauce) traditions. Includes an Antipasti (Appetizer), Primi Piatti (1st Course), Secondi Piatti (2nd Course), Contorni (Side Dishes), Formaggi (Cheese Tray), and Dolci (Sweets)